SoP for Film School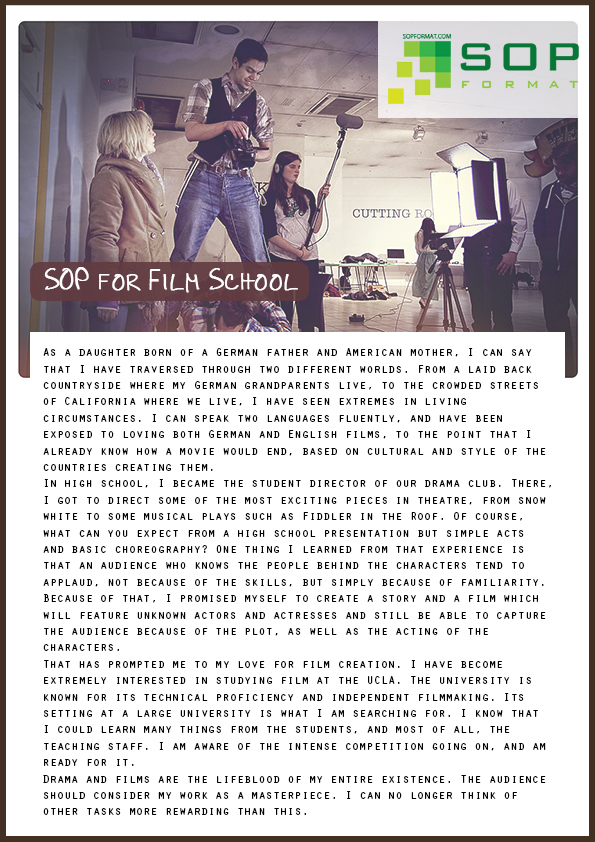 Familiarizing with examples of film school statement of purpose might seem enough for students to prepare, however copying one sample format is impossible. We have arranged a sample format to develop your unique personal statement for film school. You can use it wisely and develop a great statement that can grab success for you in return. Statement of purpose writing for film school or sop for business school may be tough, when you are writing it for the first time. These first time hindrances are easy to avoid through availing our sample format online successfully.
For more inspiration see the leading University's tips on Statement of purpose for Film School.  Check our format sample today online to acquire all the help you can get from SoP for business school.
Statement of Purpose for Film School Format Sample
I have come from a family background that is very much connected with the film industry for many years. My family is passionate about creating high-quality movies and we have crossed many milestones in this industry too. This kind of family background has always desire to know more about film making and it's a privilege and a great joy to apply now to your program…….
Assessment: Film school is totally different from other regular academic programs oriented schools. This is a field of study that demands more interest and more familiarity in film making, as well as submitting a relevant statement of purpose graduate school format. Mentioning family background and other connections with the industry can result into a good introduction for your candidature for film making program.
I grew up watching many legends in the film industry making their mark and leaving astonishingly fast, remaining in our heart forever. The way film industry enriches the human lives has always been a fascinating aspect for me and has initiated a great interest in me for this field too. ……….
Assessment: Body part of your film school statement of purpose should shape well in a way connected well with the industry. Always emphasize more over the way the industry and industry records and legends made a mark on you and how you continued your studies keeping in mind the interest for film making. This kind of carrying over of the SOP body with motivations and accomplishments can turn your candidature a wise one for the program. Also, present well your academic, experiences and other skills in the body part of the statement and turn it into multiple short paragraphs with enticing errors free content.
I am requesting to scrutinize my application and consider it for the film school. The chance will give me an opportunity to learn many things of film making besides offering me a chance to excel well in the like my other family members too. …
Assessment: This conclusion should always be positive and pleasing in the SOP. Mentioning your future plans to establish a career in the film field can offer importance to your candidature in the selection process too.
If you have despaired to find the right service for you with the best quality/price ratio, be sure to check this post on statement of purpose for master's degree.
Statement of Purpose for Film School Tips for Writing
Crafting a statement of purpose for film school application is not something that many applicants find in any way easy. Most struggle to come up with anything that they can be happy with. These simple tips however will help you to ensure that you get your SoP format for film school and writing just right:
Take a good look at our SoP for film school sample: this will help you to better understand how to structure and write your statement as well as the areas you should be looking to cover within your writing.

Check the specific requirements for application: many programs will define everything from the statement of purpose for film school format through to a prompt that may need to be answered within your statement. Ensure that you fully understand what is required of you.

Identify what the program wants to see from applicants: review their website and any other program information so that you can make a list of what they seek in a good student. This information should be reflected in your writing.

Brainstorm a list of your skills, achievements and other features to match the list of expectations: this will form the backbone for your writing.

Find an anecdote for your storyline: your statement should read more like a story and not a list like your resume. A relevant anecdote can provide you with an interesting storyline that can help maintain the interest of your reader.

Create an outline: use all of the information that you have gathered to create an outline. This will help make your writing easier while ensuring that you cover all of the information that will be expected of you.

Put extra effort into your opening: the committee will be reading many statements, yours must be capable of waking them up and getting them to take notice right from your opening line.

Use language that all can understand: avoid the use of slang and acronyms within your statement and don't try to be overly clever by using obscure language that few will be able to understand.

Keep things relevant: if it does not add to your aim of gaining a place at film school then it simply does not belong in your statement.

Check and check again: your writing must be perfect so take great care when doing your proofreading and if possible have others check your writing for you.
Mistakes That Applicants Commonly Make with Their SoP
While looking at a good sample statement of purpose for film school and our tips can help you to better understand what you need to do, it does not warn you of the many pitfalls that lay in wait. There are many ways that you can go wrong when writing your statement and you must be aware of these mistakes if you are to avoid them:
Never repeat information that is available in other parts of your application: many students simply rehash their resume and this is not going to help your application at all.

Never copy: your statement must be unique so simply copying our SoP for film school sample or anything else is going to see your application rejected.

Don't use clichés: tired phrases add nothing to your writing and will cause the admissions officer to switch off. Always make your writing totally unique.

Don't complain: this is not a forum within which you can vent your frustrations. Keep your statement to the point and positive.

Making excuses: never point out where your application is less than ideal and make excuses for past performance.

Never tell lies or exaggerate past achievements: you will be found out sooner or later and it can cause any offer to be withdrawn.
Useful Phrases and Words for SoP Format for Film School
Many applicants will look for those magical phrases that will get the attention of the committee and boost their chances of gaining a place. The problem with this is that any phrase that has already been written is no longer unique to you. Many will be seen as plagiarism or simply as clichés. Your writing must be totally unique as well as being engaging and positive. This means using words such as these listed here:
| | | | |
| --- | --- | --- | --- |
| Completed | Managed | Adaptable | Proactive |
| Delivered | Imaginative | Energetic | Inspired |
| Enhanced | Dynamic | Completed | Planned |
| Generated | Liaised | Established | Directed |
What Are the Top Film Schools to Apply To?
With the best statement of purpose there is nothing to stop you from applying to one of the best schools to get your qualifications. The following are perceived to be some of the top film schools that you can apply to:
USC

New York University

American Film Institute

UCLA

Columbia University

Chapman University

California Institute of the Arts

Loyola Marymount University

Wesleyan University

Emerson
Use our professional tips and SoP for film school sample to ensure that your application will get you noticed for all the right reasons!