What Is the SoP Biology Definition?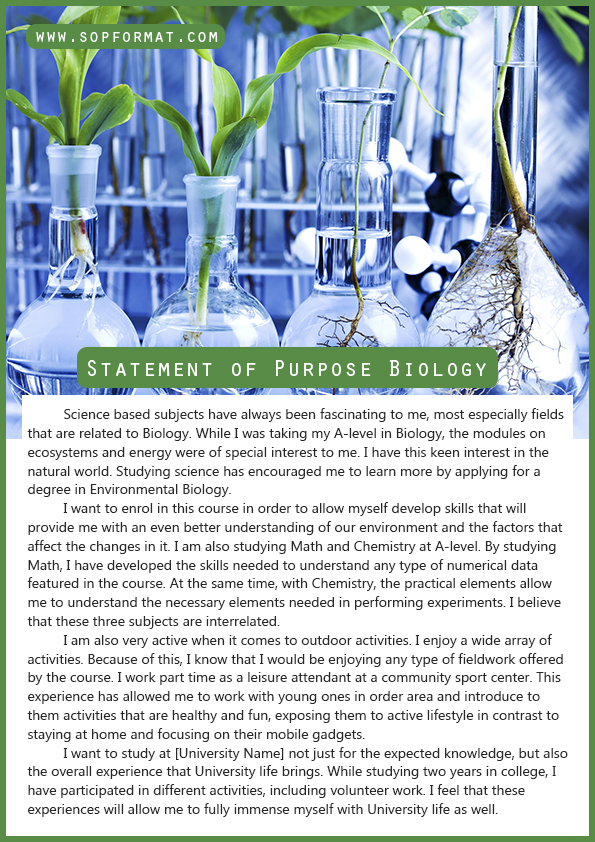 Getting into any college or university is far from easy no matter how well you have performed within your education. You will be competing against many others that will have similar qualifications to you and you will have to differentiate yourself from them in some way. This is where your statement of purpose comes in as it is your opportunity to state in your own words why you should be the one that is selected. However, if you look at any biology statement of purpose sample you will see just how well written yours will need to be to get you noticed. Writing statement of purpose is pretty tough but you can totally do it keeping in mind how badly you want to get into your dream program.
Accurate and Proper Sop Biology Format
Your statement of purpose biology is not an extension of your resume so do not limit your essay will academic achievements but also showcase your personality, values and potential contributions. One thing that you should also consider is your words; bear in mind that you will be communicating your ideas so stick to clear and relevant words. Avoid terminologies, vague experiences and jargons that might confuse your readers; words have the ability to influence your readers so make the most out of it.
[ad-3425696]
Writing Statement of Purpose Biology with These Simple Steps
Crafting a perfect biology statement of purpose or statement of purpose chemistry that is going to get you noticed is never going to be easy. Even the most gifted students find themselves writing and rewriting their statements and still submitting something that they are not fully satisfied with. The following are some ideas that will help you to ensure that you will write a statement that is going to get you the place that you are looking for:
Ensure you understand what they are looking for: review all of the information for the college and the program that you are applying to and make a clear list of precisely what they are looking for in their students. This needs to be reflected within your SoP if you are to show that you are going to be an excellent choice for their program.

Ensure that you cover everything that they will want to know about you: your statement must be able to tell the admission committee members what they are looking for. Generally, this will cover all of the following:

Why are you looking to study in the field of Biology?

What makes you suitable for a career in this field?

What are your specific career ambitions once you graduate your program?

What will you contribute to their program?

What is your reason for applying to this program and not another?

Work hard on your opening: this is your hook and has to be capable of getting the full attention of the reader. You must motivate them to want to find out more about what you will say.

Tell a story: this is not a copy of your resume: ensure that you use an anecdote that you can build a proper story about you around. This will ensure that you keep the reader interested and provide them with clear flow through your writing.

Check your statement of purpose for internship: you will almost certainly need to make several versions of your statement before you will be happy with what you have written. Also ensure that you carefully proofread what you have written as it must be totally free from issues if you are to impress.
What Does a Bad SoP 
Biology 
Look Like?
Your statement of purpose should be written from scratch and carefully tailored to reflect what the program you are applying to wants to see. So simply copying that excellent statement of purpose biology example that you have seen is not going to help you. Plagiarism is a sure way of ensuring that your application will not be taken any further.
You also need to use the correct SoP biology format for your statement. Submitting a document that is cluttered and filled with excessive text formatting such as fully capitalized words is not going to get you noticed for the right reasons. Always use the statement of purpose format biology required for your application.
You may also learn useful tips on MBA statement of purpose on our site.
Perfect Biology Statement of Purpose: Best Writing Tips for Guaranteed Prime Essay
Getting your statement well written to be accepted onto your chosen biology program is not going to be easy at all. Many students will have to invest a huge amount of time into their writing and may still find that the statement that they have written will not be what they really want. The following tips however will help you to get your writing spot on:
Take a look at our academic statement of purpose biology example: this can help you to better understand just how your own should look and what should be contained.

Avoid any possible clichés within your writing: simply regurgitating clichés is not going to impress the readers or tell them anything about you.

Avoid worthless phrases: telling the reader that you are applying or that you hope to learn a lot is not adding anything to your statement. They are all obvious already to the reader.

Don't use words that may not be understood: never use slang, acronyms or unusual words or language in attempt to sound brighter than you are.

Stay relevant: they want to learn about you and your future plans so this is not the place to wander off talking about other people or other unrelated subjects.

Be concise with your writing: if you can say what you need to say in a short sentence don't try to spin it out into a whole paragraph. Your word count is limited so make every word that your write count.

Don't use any humour in your writing: no matter how funny you may think what you have written is there will be many committee members that will simply not be amused or will find your writing inappropriate.

Be positive: never write anything that may be seen as negative in any part of your statement.
Ensure your admission to top academic programs and universities and start writing the best SOP biology or statement of purpose social work!
Take a look at our statement of purpose biology to ensure that you will get the place that you are looking for!