Statement of Purpose Graduate School Format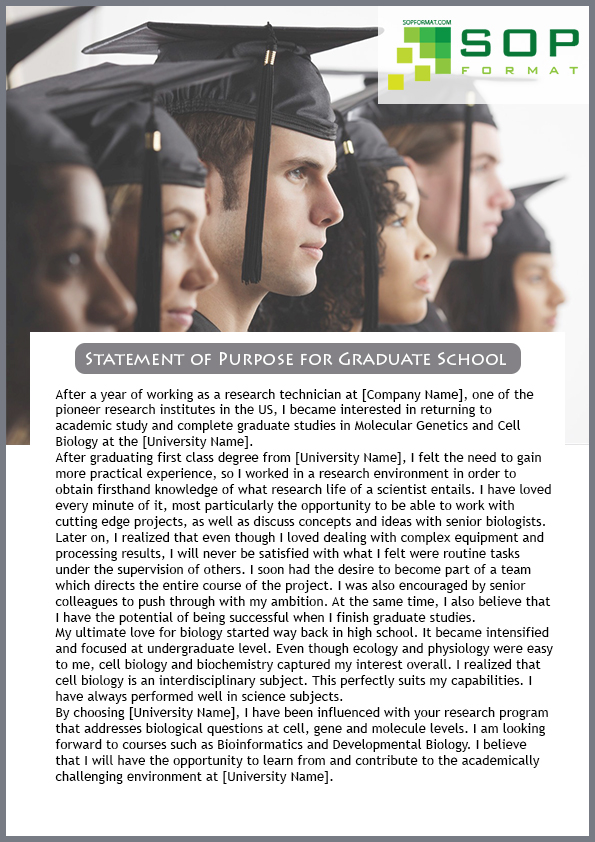 Statement of purpose graduate school format is offered online with us always. We offer this format as a help for the student and following this format can be a help too. Our sample format online is always wise option here for the student, which will be changed regularly by our team based on the changing trends. This statement of purpose for grad school format sample arranged as well as law school personal statement format one is useful in many ways and it is a gift from our team of experts for your admission success. Check our sample and try writing your statement easily.
Graduate School Statement of Purpose Format Sample
There are some salient formatting aspects for SOP should be remembered before proceeding with writing of the statement and those are:
Keep the statement up to pages and strictly limit to the specified word count too.

Always maintain double spacing in your lines in the statement of purpose.

It is always wise to keep one inch margin all around.

It is always wise and acceptable to have your statement with Times New Roman 12pt font.
Always divide your SOP into three major sections and those are:
Introduction

Body

Conclusion.
[ad-3425696]
Keep up the introduction as an opportunity to present yourself to the selection committee. Make it sure that you will present yourself totally away from other applicants in a way to make a mark with your introduction. A routine introduction will keep the success chances at low. Keeping yourself well distinguished above others would be your approach here with your introduction paragraph. For more inspiration see the leading University's tips on the general outline of the statement of purpose.
Body part of the SOP should be presented in multiple small paragraphs. Use this section of the SOP to present your accomplishments in right manner. It is required to list all your academic qualifications, acquired experiences and other skills & abilities. This presentation of accomplishments in the body of SOP should make a mark on the reader besides making the reader to feel like a suitable candidate for the program. You should establish a reasonable and acceptable relationship between the chosen graduate school program and the acquired skills, abilities, experiences and qualifications. 
Conclusion of SOP is the final part of your SOP. Conclude your SOP with request to consider into the program. Also, mention your future plans after completion of the study too. This should be more convincing in a way the conclusion should motivate the reader to consider your candidature.
All the above sections of the SOP should be written with errors free English. Make it sure that every sentence is carrying right and desired meaning in it along with telling effect. This kind of errors free and well formatted SOP will attract success for you.
If you have despaired to find the right service for you with the best quality/price ratio, be sure to check this page on graduate school statement of purpose sample.
How to Write SoP for Graduate School and Stand Out
If you are to get your application noticed and win a place you will need to ensure that you put in the effort to get your graduate school SoP format and writing perfect. This is not something that you are going to do overnight just before you have to submit it. Your statement will need a lot of hard work and you should start it as soon as you can so that you have time to complete it to a high standard. The following are some of our tips and advice to help you to craft a statement that will make you stand out:
Make sure you understand what they want: review their requirements with care to see exactly what they expect with regards the graduate school SoP format and any prompts that may require answering through your statements.

Take a look at our excellent statement of purpose graduate school sample: this will educate you as to the areas that you need to consider covering as well as the style of writing that should be employed to engage your reader. Do not simply copy any SoP graduate school sample as yours must be unique to you.

Review what the program expects in an applicant: check out what they want through their website and other documentation and make a prioritized list of those expectations. You will need to ensure that you reflect those expectations within your statement.

Match your own experience and qualities to the program expectations: brainstorm your answers to the expectations of the program so that you can show you are a perfect match to their requirements.

Create an outline: a good outline will help to guide your writing while ensuring that you actually cover all of the areas required of you.

Find a storyline: do not simply list facts, you want to tell a story that is relevant and interesting. This is best done by using a relevant anecdote that you can write around.

Work on your hook: your opening lines are vital to getting the attention of the reader. They will be reading many statements so you must make them want to read more about you right from that initial opening line.

Use language that is easy for them to understand: don't try to be clever with complex words and avoid all forms of slang or acronyms.

Be relevant: only include information that is expected to show your suitability for the program. If it does not aid you in being placed then do not include it.

Check your work with great care: any mistakes will destroy that good first impression that you need to be making.
Useful Phrases and Words for Graduate School SoP Format
Many applicants will seek out phrases that they can use within their statement to get attention. The problem with this is that many of these phrases will be seen now as cliched or even leave you open to accusations of plagiarism. You are unique and your statement must reflect this uniqueness with totally original writing. Your writing however should be highly positive and action-oriented which means using words such as the following:
| | | | |
| --- | --- | --- | --- |
| Implemented | Friendly | Completed | Enhanced |
| Managed | Adaptable | Developed | Inspired |
| Organized | Proactive | Established | Innovative |
Impress the admissions committee with a perfect statement of purpose graduate school format !