How Important Is Writing a Personal Statement for College Application?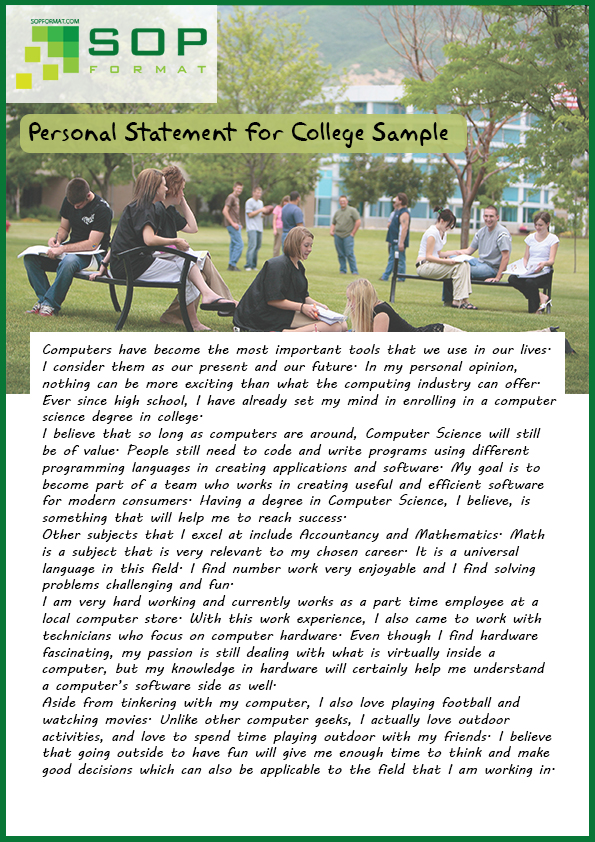 Common application personal statement, as well as personal statement format for college, is nowadays changing too much based on the increasing applications. Getting into any college place will always be a competitive process. You will have to beat many others to gain the place that you want and that means ensuring that your application really shows you off in the best manner. The problem is that many of the others will be just as well qualified as you, so your personal statement for college format and writing will often be the only way that you have to make your application stand out. A generic or poorly written statement will always ensure that the place that you want will go to another. This is why you must always put in maximum effort to ensure that your PS format for college and writing will be perfect to make your application stand out from the crowd.
Our sample college statement of purpose format and also an example of SoP for film school online is the best option here for all. We regularly change this sample for the students based on the prevailing competition and changing interests of the admission officers too.
For more inspiration see the leading University's tips on personal statement for college. Check our online sample today in order to turn your statement of purpose novice and special than others successfully.
Sample Personal Statement for College
A student planning to write a SOP should come up with ideas in a wide range. A little personal exercise can result in framing a perfect novice format for your SOP. List some of the aspects in bullet points about, why and what you want to take up college study such as below:
Specific program that interests you.

Your completed study details.

A specific work that you normally enjoy doing.

Your specific experiences or volunteer activities related to the chosen program during schooling.

What kind of help and support you're anticipating for your future with the chosen program.

List of conferences or similar activities attended by you during schooling.

What kind of personal experience leads you to make this program of your choice?

List some of skills and abilities those can successfully expose your reliability as an individual.

List all your part-time jobs and other experiences.

Your participation and support for the activities in the school events and sports.

List all your hobbies those are fitting well into your free time to groom you as a good individual.
Now, most of the facts about your candidature are in your hand to make good use of them for all kinds of your SoP writing or for choosing a good SoP format for MBA.
Now, fall a step by step approach to write your statement with a format as:
Introduction.

Body.

Conclusion.
Create a paragraph length of introduction about yourself with mentioning well about a best skill or ability that helped you to perform well at school. Also, try to mention your family background and support as part of it too.
Create the body of the SoP in multiple paragraphs through utilizing the best points in the list very well. Especially, use this body part to elevate your accomplishments in a better way at the same time connecting them well with your chosen college program. You can use all your skills, abilities and some more wisely in this body part.
Create a paragraph of conclusion to your SoP. This conclusion should be pleasing as well as convincing for the admission office.
If you have despaired to find the right service for you with the best quality/price ratio, be sure to check this post on statement of purpose for grad school.
Mistakes When Writing a PS Format for College
The admissions committee will have to read potentially hundreds of personal statements and this makes your job so much harder. Mistakes in your writing and other issues will often stand out a mile helping them to eliminate you from their list. You therefore have to ensure that you don't give them any excuse to ditch your statement and this will mean understanding the many pitfalls that must be avoided with your writing. While looking at a good PS for college sample and reading our tips can help with your writing; if you don't know what to avoid you can still make mistakes:
Repeating information from elsewhere in your application: you should not simply repeat what is written in your resume in prose form for your statement. This is your chance to sell yourself and add to your application and it should never repeat anything that is already provided.

Plagiarism: you cannot simply copy our sample personal statement for college application and present it as your own. Many programs have a built in check for plagiarism so even a few sentences lifted for your statement will be highlighted as plagiarism.

Lying or exaggerating your achievements: it is fairly easy to uncover lies and your statement will often be the basis for any interview. Always tell the truth within your statement.

Using clichés: "Ever since I was 6 years old…" and other clichés must always be avoided. They want to read a statement that is unique and reflects your ability to present yourself. Using clichés will make you look lazy.

Don't use language that may not be understood or misinterpreted: avoid the use of slang and always spell out acronyms in full. Do not try to make yourself appear more intelligent by using unusual words that you would never use in normal speech.

Using filler: you need to get your writing straight to the point if you are going to keep the attention of the reader. Don't use 20 words where you can say it in 10.

Complaining: your personal statement should be a highly positive document so complaining about a past tutor or anything else will not put you in the best light with the committee.
Useful Phrases and Words to Use in Your College Personal Statement Format 
Often applicants will seek out those magic phrases that will get them noticed. The problem is that many that you will find listed on line are now clichéd and can get your statement highlighted as plagiarized. Your writing must be totally unique and able to reflect who you are. You do however need to present yourself in a highly positive manner and there are many powerful action words that you should be using within your writing to do this:
| | | | |
| --- | --- | --- | --- |
| Dynamic | Organized | Energetic | Established |
| Innovative | Established | Proactive | Achieved |
| Managed | Identified | Planned | Developed |
Get your personal statement format for college perfect and write the most impressive personal statement with our writing guide!