How Important Is Statement of Purpose Format for PhD?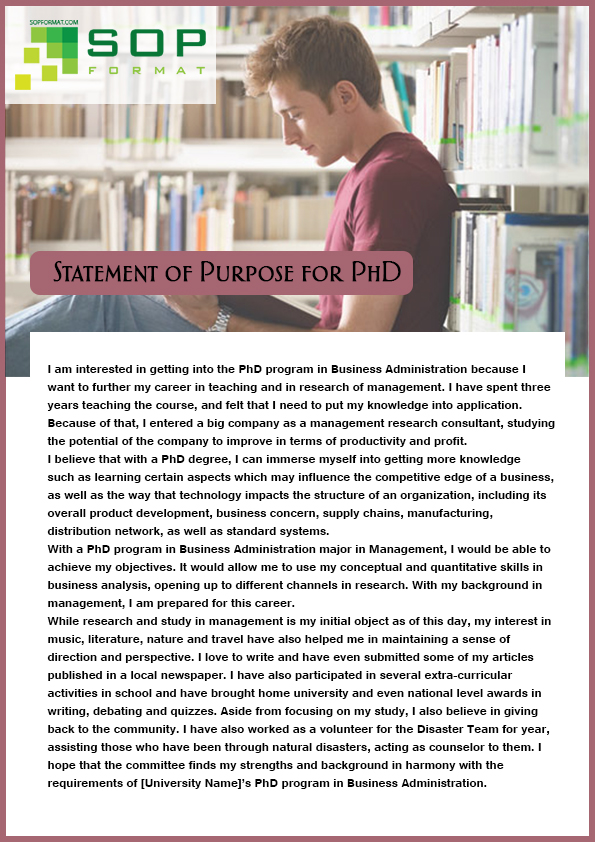 Statement of purpose format for Ph.D. as well as personal statement format for college is available with our team for the aspirants. PhD places are awarded competitively and you will have to show that you are an excellent match to their requirements if you are to get that place you want. Often at this stage in your education there will be little to choose between you and the other applicants when it comes to your qualifications and experience. This is why getting your statement of purpose for PhD format and writing perfect is so important for your application. This can be your only way of differentiating yourself from the many others that are looking for a place.
Statement of Purpose for PhD Format
You need to know how to format statement of purpose for PhD applications if you are going to get your application accepted. How your statement is presented can have a significant impact on how the committee will perceive its quality. Importantly, SOP format for Ph.D. and sop format for MBA should be developed in a way to be of right answer for many questions of the admission officer too. The following tips for how to format your PhD SoP will help you to get the best results:
Check the programs requirements for formatting: often you will be provided with clear instructions as to how you should format your SoP. These instructions should be followed with care always.

Have clear wide margins: these should be at least a full inch on all sides of the paper so that the page does not appear cluttered.

Use a font such as Arial or Calibri that is easy to read in 12pt size minimum. Do not mix fonts or use scripts or other hard to read fonts.

Print your statement using black ink on white paper: do not use colors or decorate the page in any way.

Avoid unnecessary text formatting: too much bold, italics or even CAPS can confuse the reader and cause them to not get the full message of your statement.
[ad-3425696]
SoP Format for PhD
 Example
Research program personal statement should always be capable enough to address three main questions as below:

What is that student wish to study through this chosen research or Ph.D. program?

Why student chose that topic for the research or Ph.D.?

How the Ph.D. program is going to satiate well the research needs of the student?

Introduction: I have finished my Bachelor of Engineering at the Xxx University and graduated in the year xxxx. My final year exposed me with detailed research on software development with a strong focus over the product development. Currently, I am working with a reputed IT firm in the product development division as team lead.

Review: Write good intro unlike regular SOPs and start it with bachelor program details in order to establish yourself as a real professional to take up research.

Body of SOP: My field of interest into software product development not satiated well in my finished bachelor's study. Also, I am always interested in finding out my weaknesses and strengths at professional front those acquired through my educational background, but real working environment at present not satiating well this aspect either. This is the reason, why I want to keep myself on a particular research program and to excel well in it through overcoming well all my negatives at the same time making more out of potentials.

Review: Try to answer the above mentioned three questions in detail within the body of the SOP. This will create a good opinion on your candidature as long as the style and quality of the content is satiating well as answers to the mentioned three questions.

Conclusion: I strongly believe that your University is always a great opportunity for me to prove myself as a best professional at the same time providing an opportunity to excel well at my research too. Your favorable decision with regards to my application acceptance is very well appreciated and reciprocated well through my outstanding performance within the research too.

Review: Conclude the SOP with pleasing and convincing words wisely.
If you have despaired to find the right service for you with the best quality/price ratio, be sure to check this post on How to write a PhD statement of purpose.
Steps for How to Write Statement of Purpose for PhD Application
Writing statement of purpose for PhD applications is not something that you should ever be leaving until the last minute. Your statement must truly stand out and that means you need to get to work as soon as possible so that you have the chance to produce something that you can be proud of. These SoP tips for PhD applications will help you to deliver an impressive statement:
Look at a good SoP for PhD example: this can give you many ideas as to the areas that you should be covering and the style or writing that is needed. Do not however simply copy any sample SoP for PhD application as this is plagiarism and it will also simply not reflect you.

Tell a story rather than simply make a list of your good points: this is not your resume. Find an anecdote that you can build a good storyline around.

Make your opening wow the reader: you want them to sit up when they pick up your statement and want to read more about you.

Show what you can do: do not simply make claims without supporting them fully with clear examples.

Do not repeat what you have already provided within other parts of your application: this is your opportunity to show them who you are and sell yourself fully.

Do not make obvious statements: things such as "I am applying…" and "I know I will learn…" add nothing to your statement other than using up your word count.

Never use clichés: they are expecting to read about you in your own words, so using clichés will simply switch them off.

Keep your writing concise: you only have a limited number of words in which to make a positive impression so ensure that you do not add any filler to your writing.

Don't write about others: this is your personal statement and they are expecting to read about you not someone else.

Use language that everyone will be able to understand: never use slang or any acronyms and do not try to show off by using words that are highly unusual straight from your thesaurus.
For more inspiration see the leading University's tips on Statement of purpose for Ph.D.
Mistakes to Avoid When Writing Statement of Purpose for PhD
Our tips for writing a statement of purpose for PhD application would not be complete without showing you what you should avoid. There are many pitfalls when writing an SoP and you will need to ensure that you do not fall into them. These are some of the most common issues that you will need to avoid with your writing:
Do not complain: this is not an opportunity for you to say how much you hated your previous college or tutor.

Do not make excuses: you should not be highlighting any weaknesses in your application or trying to cover up any shortcomings in your past performance.

Do not lie or exaggerate what you have done: the truth should be applied throughout your statement as lies will be exposed at some point.

Do not try to tell jokes: there will always be someone that will be offended by your jokes and most admission officers will not be impressed with any form of humour.

Do not plagiarize: copying another statement of even just a few sentences could see your application being rejected for plagiarism.
Your statement of purpose
format 
for PhD and writing present you in the best light with our useful guide, sample and tips!