Statement of Purpose format for PhD Online with Us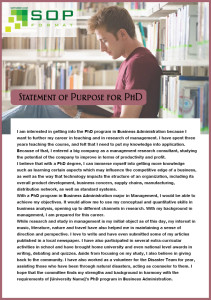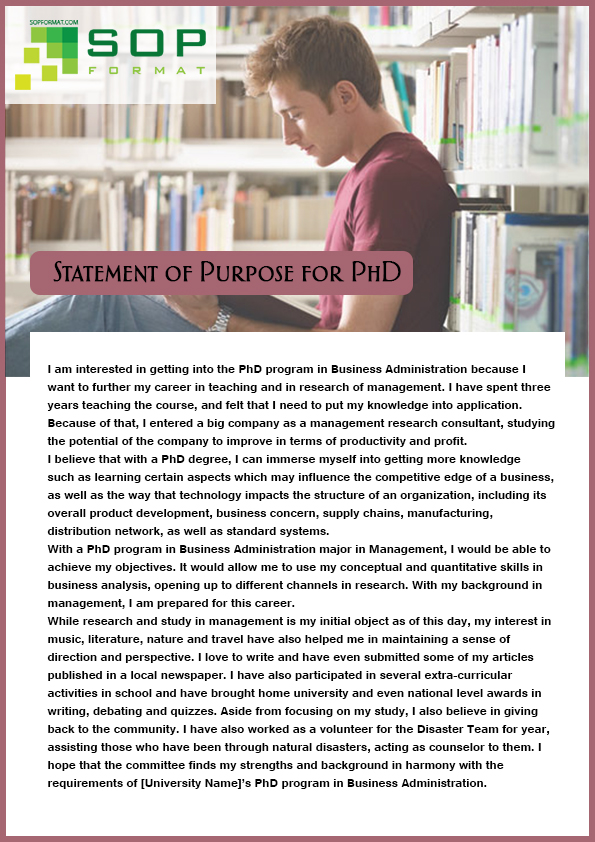 Statement of purpose format for Ph.D. as well as personal statement format for college is available with our team for the aspirants. This format is derived basing up on the exact requirements of the Ph.D. admission procedure. Ph.D. program is higher education level for students writing a personal statement for this education requires special format and special content in it without fail. Importantly, SOP format for Ph.D. and sop format for MBA should be developed in a way to be of right answer for many questions of the admission officer too.
For more inspiration see the leading University's tips on Statement of purpose for Ph.D. Our format sample mentioned below can offer you a right overview about this statement effective writing for you.
SoP Format for PhD
Example
Research program personal statement should always be capable enough to address three main questions as below:

What is that student wish to study through this chosen research or Ph.D. program?

Why student chose that topic for the research or Ph.D.?

How the Ph.D. program is going to satiate well the research needs of the student?

Introduction: I have finished my Bachelor of Engineering at the Xxx University and graduated in the year xxxx. My final year exposed me with detailed research on software development with a strong focus over the product development. Currently, I am working with a reputed IT firm in the product development division as team lead.

Review: Write good intro unlike regular SOPs and start it with bachelor program details in order to establish yourself as a real professional to take up research.

Body of SOP: My field of interest into software product development not satiated well in my finished bachelor's study. Also, I am always interested in finding out my weaknesses and strengths at professional front those acquired through my educational background, but real working environment at present not satiating well this aspect either. This is the reason, why I want to keep myself on a particular research program and to excel well in it through overcoming well all my negatives at the same time making more out of potentials.

Review: Try to answer the above mentioned three questions in detail within the body of the SOP. This will create a good opinion on your candidature as long as the style and quality of the content is satiating well as answers to the mentioned three questions.

Conclusion: I strongly believe that your University is always a great opportunity for me to prove myself as a best professional at the same time providing an opportunity to excel well at my research too. Your favorable decision with regards to my application acceptance is very well appreciated and reciprocated well through my outstanding performance within the research too.

Review: Conclude the SOP with pleasing and convincing words wisely.
If you have despaired to find the right service for you with the best quality/price ratio, be sure to check this post on How to write a PhD statement of purpose.