Law School Personal Statement Format Online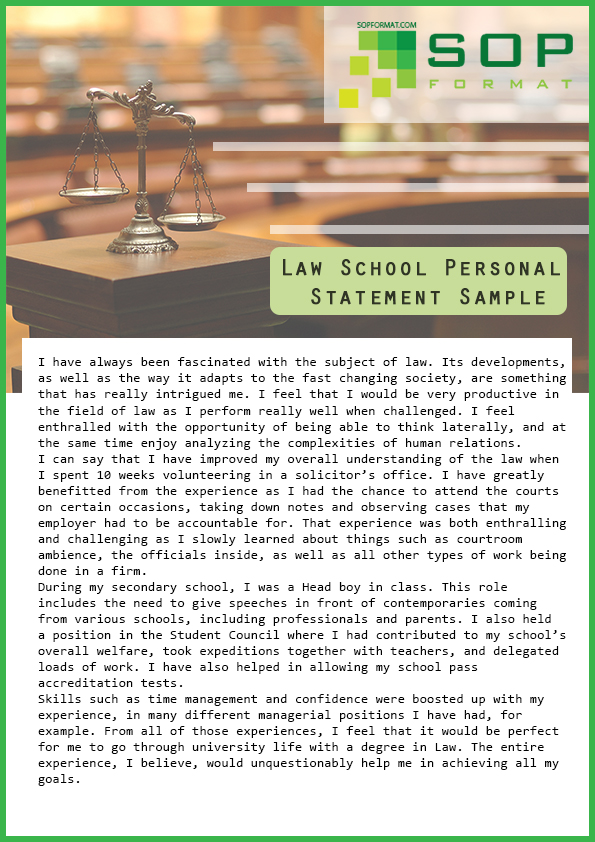 This format sample is provided based on the latest trends and it will change time to time with us too. Our idea is to provide the best format for the students based on the trends and changing admission procedures with law schools. Personal statement of purpose for law school format availed with us will help you a lot in many ways. It is easy to understand and follow our sample format for all. Check our online sample and try to make more out of it too.
Why Is Personal Statement for Law School Format so Important?
Law school can be one of the most competitive places to get into. You will have to compete with many others that will be at least as well qualified as you are. This means that often the only way that you have to make your application stand out from the others is through a well written personal statement. Your law school PS format and writing must by perfect and able to truly show you off in the best light possible to give you a good chance of selection.
[ad-3425696]
The Right Law School PS Format
The format of your personal statement is in many cases fixed by the application process. You will have to paste your statement into their system and all formatting will often be stripped from your writing. However with some programs to which you have to directly apply you will need to consider all of the following:
Check their specific instructions for formatting your statement: if they provide you with instructions follow them perfectly and without any deviation.

Use a font that will be easy to read: you should use a font such as Arial in 12pt size and avoid things such as scripts.

Keep clear margins: you want your page to appear clean and uncluttered so have margins of at least an inch on all sides.

Do not use color or decoration: your statement should be black ink on good quality white paper.

Do not excessively format your text: you should not have to rely on the use of italics or bold within your writing to draw attention to what you feel are the most important points.
Personal Statement Law School Sample
Introduction: I am a student with zeal to explore new things and it is always a quest within me to acquire more knowledge. This kind zeal within me helped me to acquire good knowledge and command on subjects in the high school like math, science, statistics, geography and some more. My interest to explore new horizons sometime earlier introduced me with the legal system of our country. This made a lot impact on me and……
Assessment: Your introduction paragraph is the first one in the right format of your SOP. This introduction should be used to distinguish well your candidature from other applicants and to elevate it above all other too. Selection committee might have aware of your acquired LSAT and GPA scores and add more impression to it with your well written introduction paragraph. For more inspiration see the leading University's tips on law personal statement.
Body of SOP: I have been always a bright student in my high school and been role model for other students through acquiring good grades at the same time being active at extra-curricular activities too. Apart from academics, I adjusted my time schedule in a way to acquire little work experience too. I worked as……
Assessment: Your SOP body is another crucial part that demands special attention from you always. Create this body part with good remarks over your accomplishments such as qualifications, experiences and other acquired skills. There is no special method other than creating a good relation with all your accomplishments with the chosen program. This well created relationship with telling effect can turn your candidature suitable to take up the program.
Conclusion: I am applying for this program with utmost interest and determination to do well in the program too. This given chance…………
Assessment: Thinking of that you created a best introduction and body of the SOP, conclusion should be pleasing and convincing. Conclude this statement with convincing request and confirm that your utmost efforts will always be there to pursue the program better than other applicants. Keep this conclusion simple and short always. If you're a student of the law school already, you might need a statement of purpose for internship, that's where you can find a great assistance online.
If you have despaired to find the right service for you with the best quality/price ratio, be sure to check this post on Statement of purpose for law school.
What Does a Perfect Law School Statement Look Like?
If you look at our law school PS sample you will see that it is likely to be very different to other samples. Every personal statement law school sample that you see is unique just as you yourself are unique. What is perfect for you will not suit another. This is why when learning how to write law school personal statement pages you need to ensure that writing is totally plagiarism free. The following law school personal statement tips will help you to understand what a good statement looks like:
Engaging: your statement should have an attention grabbing opening and tell a brief story about you so that it keeps the readers eye on the page and makes you memorable. It should use a good relevant anecdote to form the storyline and should never be a simple list of facts.

Explains why you want to study law: the committee want to know that this is not a last minute idea on your part to apply. They want to see clear reasons for your application and how you have pursued that ambition.

Clear ambition: they want to see that you have an idea of where you are heading for your future career. Do not however make it so rigid, show that you have some flexibility to change direction as you learn more within your studies.

Easy to read: the language you use should be normal everyday English. Do not try to sound clever by applying words that no one uses in everyday conversations. Also avoid any acronyms and slang.

Well written: always take time to edit and proofread your writing to ensure that it is the best that it can be. Ensure that there are no mistakes that could slip through when you submit your statement.
Top Law Schools You Can Apply To
Getting an education from one of the top ranked law schools is always preferable. Not just for the boost that it will give to your career but also for the higher standard of education that you receive. With a well written personal statement for law school there is nothing to stop you from applying to any of the following:
Yale University

Stanford University

Harvard University

University of Chicago

Columbia University

New York University

University of Pennsylvania

University of Michigan

Berkeley

University of Virginia
Make your application stand out with our professional support with law school personal statement format !