Why Do We Need to Write a Statement of Purpose Format for MS Applications?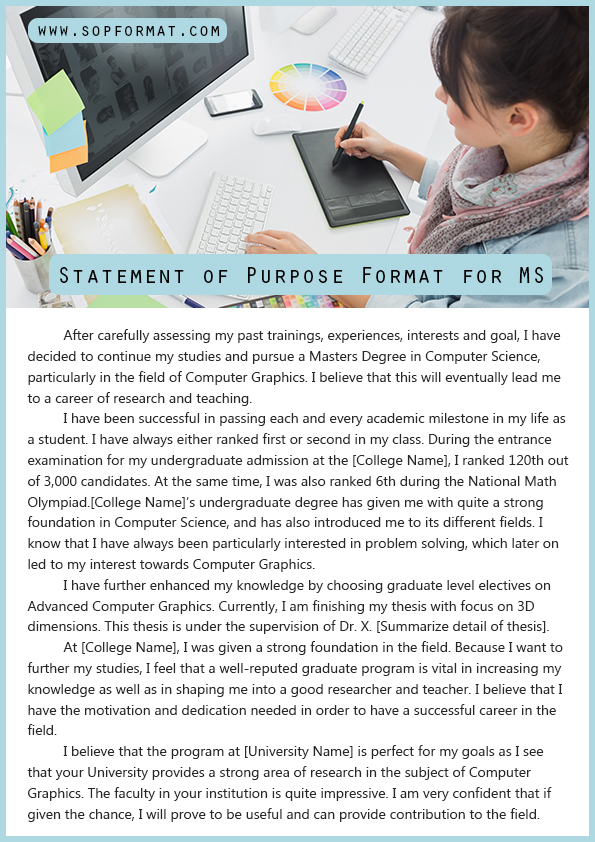 Getting onto any MS program is not something that you are going to find easy. Programs are often highly selective and you will be expected to compete against many others that are at least as well qualified as you are for a place. Your SoP for MS is often the only way that you will have of being able to differentiate yourself from the others applying. If you have looked at any sample SoP for MS application however you will see that they are very difficult to write no matter how skilled a student you might be.
Statement of Purpose Format for MS: Flawless, Clear and Concise
For the majority, it can be very easy to overlook common mistakes when writing a statement of purpose, whether it be statement of purpose education or any other one. It is important that you can create the best statement of purpose as for you to relay the qualifications, experiences, events, credentials and your personality to the admission committee.
If you are required to craft a statement of purpose for your MS application that is going to be sent with your application you must ensure that it is formatted in just the right manner. The following advice for formatting should always be carefully followed to achieve the correct format for SoP for MS:
Check if they specify their SoP format for MS applications: if they do make sure that you follow their requirements fully and precisely.

Always use a font that will be easy to read: minimum size should be 12pt and a font such as Arial. Never use unusual scripts or even multiple fonts on the same page.

Maintain clear margins: these should be at least 1" around the page so that you work appears clear.

Always use good quality white paper and black ink: never use colors or decorate your statement in any way.

Don't over format the text within your writing: avoid bolding your writing, using italics or writing anything using only caps.
[ad-3425696]
Professional Writing Tips for Best Statement of Purpose MS
Ensuring that you will stand out from all of those others applying for the same place is not going to be easy. Many applicants have extreme difficulties with their writing and even if they manage to complete their SoP they are rarely completely happy with what they will submit. Our excellent statement of purpose for MS guide will help you to achieve your best. Follow these SoP tips for MS applications:
Take a look at our sample SoP for MS writing: a good example will show you just what you should be covering within your statement and how.

Review the requirements for the program you are applying to: ensure that you carefully follow all expectations for formatting and any prompt that you must answer.

Review all information around the program and college to identify exactly what they look for in a good applicant: you will want to reflect those expectations in your writing.

Find an interesting and relevant anecdote around which you can write your story. Your statement needs to have flow and interest like a story not to be a list.

Take care of your opening: this must get the reader to sit up and inspire them to want to read more about you.

Avoid the use of clichés or any other statements that may be seen as non-value adding to your writing.

Be positive within your writing: never approach anything from an angle that may be seen as negative in any way.

Give examples: do not simply make a claim such as being able to lead, give an example of when you led and what the outcome was.

Use words that everyone will be able to fully understand: do not try to be overly clever with your writing and select unusual words that may not be understood by your reader.

Check your writing: mistakes tell the reader that you were not interested enough about their program to actually review your statement.
Top Statement of Purpose for MS Guide
Impressing the admissions officers and getting them to see you as an excellent applicant to select will require you to tell them what they need to hear. This will typically mean that you will have to cover all of the following areas when writing your statement of purpose or sop MBA:
Why are you looking to study within the field of your MS?

What skills and other qualities do you have that will make you able to complete your studies in this area.

What are your future career plans once you have gained your MS?

What do you hope to gain most from studying within their program and what do you bring to the party.

Why have you applied to their specific MS rather than the many others that are out there?
The next time that you want to guarantee a spot to the best MS programs, start crafting premium statement of purpose format for MS or statement of purpose engineering that will surely win over the admission committee.
What Does Your Ideal Statement of Purpose MS Look Like?
If you follow our tips to write SoP for MS applications and format your application correctly you will be able to present the committee with an impressive statement that will get you noticed. Your statement of purpose will be carefully tailored to the program that you are applying to while be highly engaging and able to get the attention of any reader. Submitting a boring and generic looking statement is unlikely to help you in gaining the place that you are seeking with your applications. You may be interested in the best USA universities admission paper writing prompts!
Take careful note of our statement of purpose format for MS sample and writing advice to help make your submission a successful one!