Make Stellar Impression to Hiring Managers with Statement of Purpose for a Job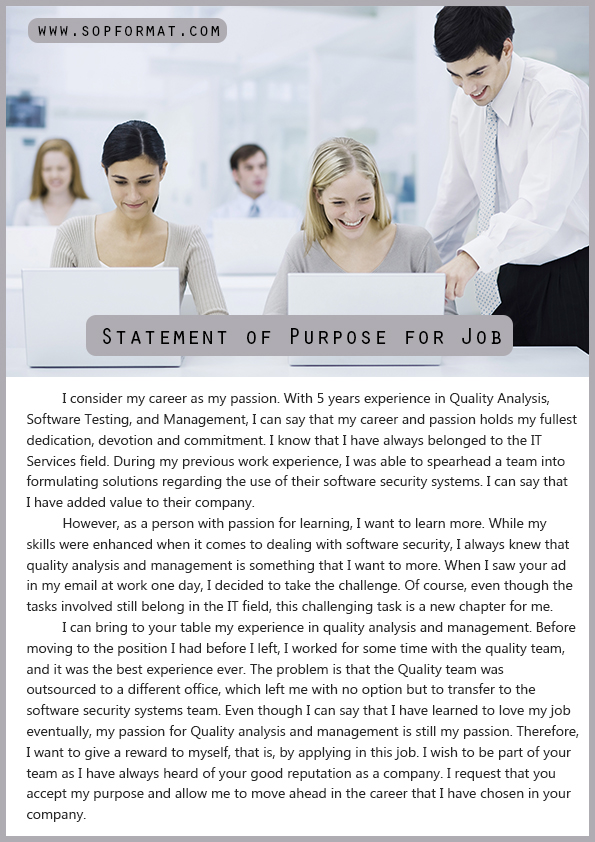 With the increasing competition in all job industries, it can be tough to land the position that you want. One of the most efficient solutions as for you to impress the hiring managers is through a winning statement of purpose. The main goal of statement of purpose format is for you to communicate your qualifications, personal experiences, academic achievements and even your personality as to make it easier to determine whether you are a good fit for the job. By understanding the importance of your statement of purpose for a job, you have a greater chance of writing and impressing your audience.
Guaranteed Accurate, Flawless Statement of Purpose Format for Job
Knowing the right statement of purpose format for job application is important if you want your application to be well received. This can be difficult if this is the first time that you have been asked to provide an SoP. The following tips for your statement of purpose format for job submissions will help you to produce a document that will get you noticed:
Check if they have any specific requirements for formatting: if they do ensure that you follow those instructions with great care.

Use a font that will be easy to read such as Arial or Calibri, use it in a minimum of 12pt size for your statement. Never use any form of scripts or other fancy fonts that will be hard to read.

Have wide clear margins: keep the edges of your paper clear for at least a full inch on all sides.

Use only white good quality paper and print your statement in black only.

Do not use masses of text formatting: keep any use of italics and bolding to a minimum and never spell anything out in all caps.
How to Write a Statement of Purpose for a Job
Knowing how to write a statement of purpose for a job application is a skill that you will need to learn if you want to land your dream position. While not every job will require one of you many will and it is important that you make yours stand out from the others that will be applying for the same position. Often there will be little between you other than what you write in your statement so you need to ensure that yours is written perfectly. These SoP for job tips will help you with your writing:
Review their specific requirements for SoP writing: often they will specify precisely what they expect you to cover and even technical aspects such as the right SoP format for job applications. Follow instructions with care.

Understand what the recruiter is looking for from an ideal recruit. Read the job advert and any available information about the company and make a prioritized list of what they will be looking for.

Brainstorm your own areas or strength and other attributes and match them with care to the list of requirements that you have created.

Write and rewrite your statement with care until you are confident that it presents you in an ideal light and is capable of making your stand out.

Proofread the statement with care so that you are confident that there are no errors remaining within the writing.
Effective SoP for Job Tips
Getting detailed support with how to write an SoP for a job application is vital if you are to make the right impression. You need to present yourself in a way that is going to clearly show that you are a superior applicant. The following SoP for job tips will provide you with the edge that you need with your application:
Look at our statement of purpose for job application sample so that you can see the areas that should be covered and how your writing should be styled.

Tell a story: do not simply repeat your resume and give them a list of facts, Use an anecdote that you can build a story around to show how you are the best person for the job.

Make your opening line an attention grabber: they will often be reading scores of statements so you want yours to make them sit up and take notice right from the start.

Show clearly why you are working in this specific field. Demonstrate your motivation for wanting the job.

Show that you have the skills to do the job: pick the main areas that they are looking for.

Demonstrate those skills with clear examples rather than just making claims without any form of backup for what you are saying.

If possible use examples that you can quantify, numbers will often speak far louder than just words alone.

Tell them what you hope to achieve within the role: the more they understand what you hope to bring to the role the more chance you have of getting an interview.

Make your writing concise: they are not going to want to wade through line after line of filler looking for the information they want to know about.

Use language that is easy to understand: don't try to be clever with unusual wording or with acronyms and slang.
Useful Phrases and Words to Use Within Your Statement of Purpose for a Job
Taking phrases and things that you like from an SoP sample for job application may not always help you. You are unique and your statement needs to reflect that by being unique also. Using stock phrases may be seen as clichéd or even plagiarism so care must be taken. That being said however there are many action type words that should be incorporated within your writing to help improve your chances of standing out:
| | | | |
| --- | --- | --- | --- |
| Team-Player | Led | Developed | Generated |
| Innovative | Managed | Inspired | Achieved |
| Confident | Organized | Enhanced | Implemented |
What to Avoid in Your Job Application SoP
It is not always enough to know what you should do within your statement of purpose as well as personal statement for MBA. You also need to know what you should not do. After all if you are not aware what the mistakes are it is far easier to fall into them. The following are some of the things that you must avoid within your writing:
Do not simply repeat what you have written in your resume: this is an opportunity to make a more targeted and effective claim to the job.

Do not lie or exaggerate your past achievements: it is far too easy for people to discover the truth.

Do not complain about your previous employers: you are not going to be considered if they think you will do the same to them.

Do not write about others: this is your statement about you and your future plans and ambitions.

Do not talk about your weaknesses: they want to know why you are good for the job, not why you can't do it.
Get Top Notch Statement of Purpose Format for Job
Proofreading and editing is very important if you want to ensure the proficiency of your essay; this will enable you to make sure that everything from statement of purpose format for job to the excellence of your content is top notch. Aside from that, you can also have someone critique your SOP for overall quality. For those who have limited knowledge on the accurate statement of purpose format for job, be sure that you research ahead of time. The excellence of your statement of purpose format is crucial especially if you are trying to compete against other candidates. Besides, you may know more about how to write top notch scholarship statement of purpose on our site and get the scholarship that you want!
Use our professional tips to get useful fact about statement of purpose format for job application writing!