Law School Personal Statement Format Online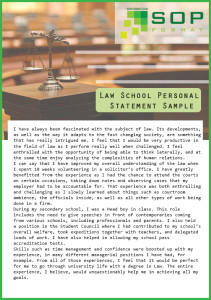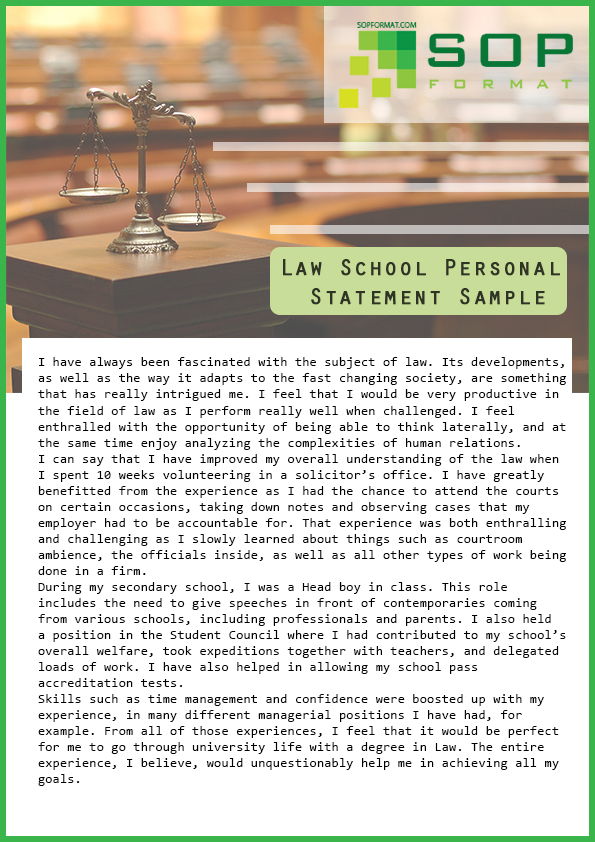 This format sample is provided based on the latest trends and it will change time to time with us too. Our idea is to provide the best format for the students based on the trends and changing admission procedures with law schools. Personal statement of purpose for law school format availed with us will help you a lot in many ways. It is easy to understand and follow our sample format for all. Check our online sample and try to make more out of it too.
Personal Statement for Law School Format Sample
Introduction: I am a student with zeal to explore new things and it is always a quest within me to acquire more knowledge. This kind zeal within me helped me to acquire good knowledge and command on subjects in the high school like math, science, statistics, geography and some more. My interest to explore new horizons sometime earlier introduced me with the legal system of our country. This made a lot impact on me and……
Assessment: Your introduction paragraph is the first one in the right format of your SOP. This introduction should be used to distinguish well your candidature from other applicants and to elevate it above all other too. Selection committee might have aware of your acquired LSAT and GPA scores and add more impression to it with your well written introduction paragraph. For more inspiration see the leading University's tips on law personal statement.
Body of SOP: I have been always a bright student in my high school and been role model for other students through acquiring good grades at the same time being active at extra-curricular activities too. Apart from academics, I adjusted my time schedule in a way to acquire little work experience too. I worked as……
Assessment: Your SOP body is another crucial part that demands special attention from you always. Create this body part with good remarks over your accomplishments such as qualifications, experiences and other acquired skills. There is no special method other than creating a good relation with all your accomplishments with the chosen program. This well created relationship with telling effect can turn your candidature suitable to take up the program.
Conclusion: I am applying for this program with utmost interest and determination to do well in the program too. This given chance…………
Assessment: Thinking of that you created a best introduction and body of the SOP, conclusion should be pleasing and convincing. Conclude this statement with convincing request and confirm that your utmost efforts will always be there to pursue the program better than other applicants. Keep this conclusion simple and short always. If you're a student of the law school already, you might need a statement of purpose for internship, that's where you can find a great assistance online.
If you have despaired to find the right service for you with the best quality/price ratio, be sure to check this post on Statement of purpose for law school.