Business School Statement of Purpose Format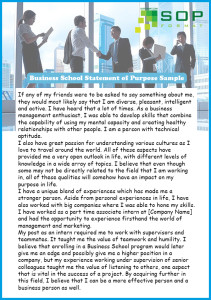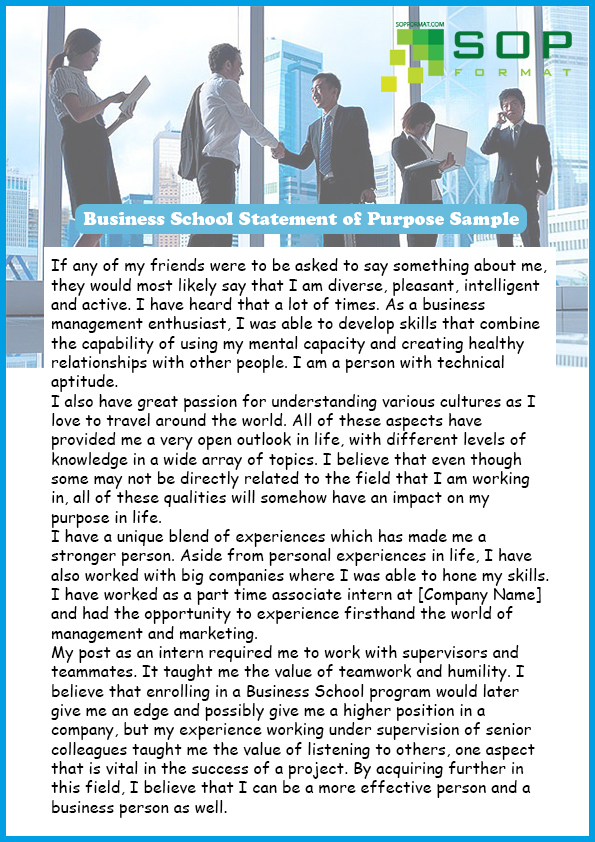 Business school statement of purpose (as well as medical school statement of purpose) success is always governed through its format and quality of the content in it. It is clearly indicating the importance of the right format for your statement of purpose while applying for the business school admission. This SOP for business school requires following special format and the below mentioned sample format can offer a good idea for all. This sample format is provided by our experts in the team, who have many years of experience of writing SOPs for the students worldwide and helping greatly for them to achieve admission success.
SoP for Business School Format Sample
Experience and diversity as characteristics in me is making me always a best student at my academic front. These characteristics always helped me a lot to excel with academics and gained a great level of command over technical aptitude, math and some more. These subjects' knowledge and command automatically instilled a great level of interest in me for the management program as my professional study. My hobbies include reading and travelling allowing me to understand more about the people from all parts of the world with different cultures.
Assessment: The above introduction is created in a way to introduce the student candidature in a bright way. Your SOP should be started with introduction as mentioned above and this is a good format for obtaining attention. For more inspiration see the leading University's tips on Format of business school statement of purpose.
My schooling went very well in a best high school and helped me to acquire good academic foundation to take further studies successfully. My good grades with high school study will inform more about my candidature and suitability to take up your management program. I have good experience too mention here. During my high schooling, I worked on temporary basis with few good organizations locally. As part time employee, I worked as customer care representative for a big firm, worked as accountant in another local firm and worked as administrative help for a big construction firm too. All these experiences along with good grade acquired high schooling is making as an suitable student to take up management program in your prestigious institution.
Assessment: The next part of introduction in the SOP should be more about academic qualifications and experiences. Make it sure that this part of the SOP is connecting well with the chosen program and this kind of writing will turn it into a best format for you.
I am requesting with suitable qualification and experience to consider me into the chosen program. This opportunity will allow me to pursue my interested program and my interest for this program will let me excel well in it too.
Assessment: This conclusion paragraph should be made with request for the admission. This kind of introduction, body and conclusion format suits well for your MBA SoP.
If you have despaired to find the right service for you with the best quality/price ratio, be sure to check this page on MBA statement of purpose format.